Hotel Michael's Palace
Hotel Michael's Palace is an ideal choice for visitors of Košice. The combination of contemporary, modern design, coupled with rich, historical heritage will undoubtedly meet your greatest expectations. Whether you travel for business or pleasure, our hotel is convenient choice which will allure you with its historical building from 1911 and rooms designed in unique style. Hotel Michael's Palace is situated less than five minutes away from "Maratónu mieru" square on foot and within twelve minutes' walk from the dominant of Košice's historical center, Dóm sv. Alžbety.

* During the COVID-19 pandemic, catering services are limited.
More information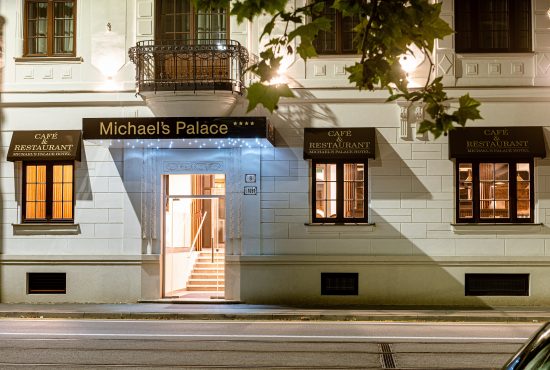 Luxury
Each room is equipped with a flat screen TV, WIFI connection and telephone in the room and bathroom. Moreover, our rooms include minibar and boiling kettle – who would not like to have a cup of tea after a long working day. Comfortable king size beds and 30 centimeter thick mattresses guarantee a peaceful, undisturbed sleep. For the guests traveling for business, we offer a desk, storage place for a suitcase and suit hanger stand.
Great services
A free breakfast is served daily to the hotel guests. Moreover, parking in closed area in front of the hotel is free of charge. A storage of baggage is available for all clients of the hotel. Lastly, we offer cleaning and ironing services for maximum comfort. Hotel Michael´s Palace is open 24 hours per day, a private security services are employed in the night hours to ensure safety of our clients.
Custom made suits
Our hotel offers extraordinary services for our business guests – custom made suits. Our sewers will take care of your suit and tailor it within two working days. At the same time, you can keep the suit at our hotel and it will be waiting for you upon your next arrival, ready for the next business meeting.
Simon999
Very nice plac to stay, nice breakfast included. Friendly and helpful staff.
Gina
Lovely place to stay, nice breakfast included. Friendly and helpful staff.
Kikokoukla
Amazing big rooms. Everything is new and modern. Very nice bathroom.