About us
Hotel Michael´s Palace has been established in 2019. Hotel provides accommodation in 15 guest rooms, guaranteeing pleasant, familiar atmosphere. Hotel Michael´s Palace offers single room adapted for disabled person, standard double rooms with spacious bathroom including shower and superior double rooms including bathrooms with shower and bathtub. Spacious rooms "Deluxe" are designed to satisfy needs of the most demanding customers.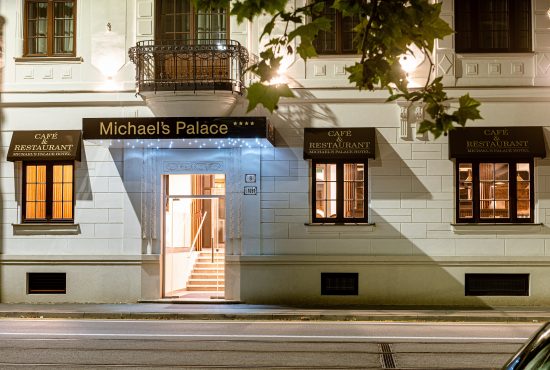 Luxury
Each room is equipped with a flat screen TV, WIFI connection and telephone in the room and bathroom. Moreover, our rooms include minibar and boiling kettle – who would not like to have a cup of tea after a long working day. Comfortable king size beds and 30 centimeter thick mattresses guarantee a peaceful, undisturbed sleep. For the guests traveling for business, we offer a desk, storage place for a suitcase and suit hanger stand.
Great services
A free breakfast is served daily to the hotel guests. Moreover, parking in closed area in front of the hotel is free of charge. A storage of baggage is available for all clients of the hotel. Lastly, we offer cleaning and ironing services for maximum comfort. Hotel Michael´s Palace is open 24 hours per day, a private security services are employed in the night hours to ensure safety of our clients.
Custom made suits
Our hotel offers extraordinary services for our business guests – custom made suits. Our sewers will take care of your suit and tailor it within two working days. At the same time, you can keep the suit at our hotel and it will be waiting for you upon your next arrival, ready for the next business meeting.
NEAR DOWNTOWN
Historical center of Košice is a great option for guests, who wish to discover town´s historical monuments and antiquities, get to taste great local food, craft beer, or savor unforgettable atmosphere of Košice while having a cup of coffee...
NATIONAL PARK SLOVAK PARADISE
National park Slovak Paradise provides attractive landscape of karstic plateau, gorges, waterfalls and caves. One of the largest ice caves in Europe are located here. Crossing ravines is like an obstacle course full of wooden or metal ladders, bridges, creepers and chains...
TOKAY WINE ROUTE
Tokai wine route is considered rarity due to medieval Tokay cellar sculpted into tufa rocks. Cellars originate in the era of Turkish wars. To some extent, they were built as hide-out from burglarious forces. Some cellars are sculpted 8 to 16 meters deep...
TATRA REGION
Tatra region, situated on northern Slovakia, is the most captivating area of Slovakia. It comprises of two sub-regions: Tatra and north Spiš. Tatra´s form borderline between Poland and Slovakia. They consist of High Tatras, Belianske Tatras, West Tatras...